Overview
A tendon is a band of connective tissue that anchors muscle to bone. The Achilles tendon is the largest tendon in the body. It attaches the calf muscles to the heel bone (calcaneus) and is very important because it lets you lift your heel when you start to walk. It also helps you to walk, run or stand on tiptoe. Achilles tendonitis is inflammation of the Achilles tendon. In most cases, it is a type of overuse injury and is more common in younger people. Professional and weekend athletes can suffer from Achilles tendonitis, but it is also a common overuse injury in people not involved in sport. Treatment includes rest, non-steroidal anti-inflammatory drugs (NSAIDs), physical therapy and avoiding activities that aggravate the condition.
Causes
Achilles tendinitis can be caused by overly tight calf muscles, excessive running up hill or down hill, a sudden increase in the amount of exercise, e.g. running for a longer distance, wearing ill-fitting running shoes, such as those with soles that are too stiff, or wearing high heels regularly, or changing between high heels all day and flat shoes or low running shoes in the evening. Overuse is common in walkers, runners, dancers and other athletes who do a lot of jumping and sudden starts/stops, which exert a lot of stress on the Achilles tendon. Continuing to stress an inflamed Achilles tendon can cause rupture of the tendon - it snaps, often with a distinctive popping sound. A ruptured Achilles tendon makes it virtually impossible to walk. An Achilles tendon rupture is usually treated by surgical repair or wearing a cast.
Symptoms
A symptom is something the patient feels and reports, while a sign is something other people, such as a doctor, detect. For example, pain is a symptom, while a rash is a sign. The most typical symptom of Achilles tendinitis is a gradual buildup of pain that deteriorates with time. With Achilles tendinitis, the Achilles tendon may feel sore a few centimeters above where it meets the heel bone. Other possible signs and symptoms of Achilles tendinitis are, the Achilles tendon feels sore a few centimeters above where it meets the heel bone, lower leg feels stiff or lower leg feels slow and weak. Slight pain in the back of the leg that appears after running or exercising, and worsens, pain in the Achilles tendon that occurs while running or a couple of hours afterwards. Greater pain experienced when running fast (such as sprinting), for a long time (such as cross country), or even when climbing stairs. The Achilles tendon swells or forms a bump or the Achilles tendon creaks when touched or moved. Please note that these symptoms, and others similar can occur in other conditions, so for an accurate diagnosis, the patient would need to visit their doctor.
Diagnosis
There is enlargement and warmth of the tendon 1 to 4 inches above its heel insertion. Pain and sometimes a scratching feeling may be created by gently squeezing the tendon between the thumb and forefinger during ankle motion. There may be weakness in push-off strength with walking. Magnetic resonance imaging (MRI) can define the extent of degeneration, the degree to which the tendon sheath is involved and the presence of other problems in this area, but the diagnosis is mostly clinical.
Nonsurgical Treatment
Most of the time, treatment for achilles tendinitis beginning with nonsurgical options. Your CFO physician may recommend rest, ice, ibuprofen, and physical therapy. If after 6 months, the pain does not improve, surgical treatment may be necessary. The type of surgery would depend on the exact location of the tendinitis and extent of damage.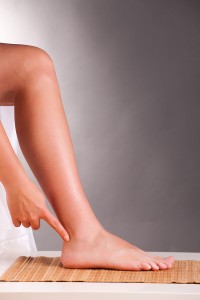 Surgical Treatment
Chronic Achilles tendon tears can be more complicated to repair. A tendon that has torn and retracted (pulled back) into the leg will scar in the shortened position over time. Restoring normal tendon length is usually not an issue when surgery is performed within a few weeks of the injury. However, when there has been a delay of months or longer, the treatment can be more complicated. Several procedures can be used to add length to a chronic Achilles tear. A turndown procedure uses tissue folded down from the top of the calf to add length to the Achilles tendon. Tendon transfers from other tendons of the ankle can also be performed to help restore function of the Achilles. The results of surgery in a chronic situation are seldom as good as an acute repair. However, in some patients, these procedures can help restore function of a chronically damaged Achilles.
Prevention
While it may not be possible to prevent Achilles tendinitis, you can take measures to reduce your risk. Increase your activity level gradually. If you're just beginning an exercise regimen, start slowly and gradually increase the duration and intensity of the training. Take it easy. Avoid activities that place excessive stress on your tendons, such as hill running. If you participate in a strenuous activity, warm up first by exercising at a slower pace. If you notice pain during a particular exercise, stop and rest. Choose your shoes carefully. The shoes you wear while exercising should provide adequate cushioning for your heel and should have a firm arch support to help reduce the tension in the Achilles tendon. Replace your worn-out shoes. If your shoes are in good condition but don't support your feet, try arch supports in both shoes. Stretch daily. Take the time to stretch your calf muscles and Achilles tendon in the morning, before exercise and after exercise to maintain flexibility. This is especially important to avoid a recurrence of Achilles tendinitis. Strengthen your calf muscles. Strong calf muscles enable the calf and Achilles tendon to better handle the stresses they encounter with activity and exercise. Cross-train. Alternate high-impact activities, such as running and jumping, with low-impact activities, such as cycling and swimming.